Microsoft's popup reminder about Windows 10 is an aggressive marketing campaign that has the signs of a malware infection, and while the get Windows 10 message is not a virus it is certainly annoying.
Remove a Windows Update, Kill the Upgrade Notification
The notification came via a Windows Update, so why not remove the update?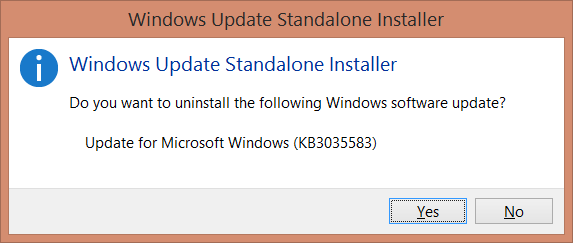 Uninstalling a Windows Update is surprisingly easy, as long as you know its name. This update is called KB3035583 so we can use the command line to delete it with a single command. Begin by opening the Command Prompt with Administrator privileges (right-click the Command Prompt icon and select Run as administrator) and enter
WUSA /UNINSTALL /KB:3035583
Follow the on-screen prompts, and when complete type exit to close Command Prompt.
Why Is Windows 10 Being Pushed So Hard?
Before we take a look at how you can get rid of the Windows 10 notification, let's take a step back for a moment. Windows 10 is coming, that much we know. But why is Microsoft promoting its future operating system so heavily to its existing users?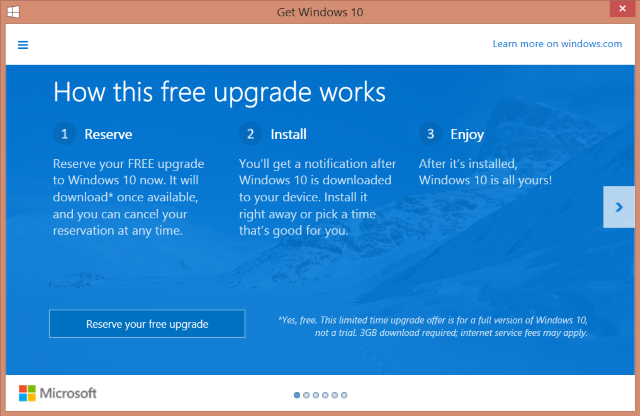 The answer lies in what they expect to gain with Windows 10: a blanket installation of their new operating system and the abandoning of Windows XP (which continues to hang on despite being 12 years old), Vista and 7 in particular, and also Windows 8/8.1. Getting users off Windows XP has proved difficult, but for them to safely upgrade to Windows 10, XP users must first upgrade to Windows 7.
The Windows 10 Upgrade Notification
If by some unlikely stroke of luck you haven't seen the Windows 10 upgrade notification, it first appears as a Windows logo in the system tray. By right clicking it, you can view the Get Windows 10 popup, or Check your upgrade status, but if you continue to ignore it, it will begin popping up automatically.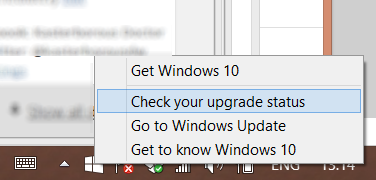 Although it isn't malware, the upgrade notification is introduced to your computer via a download, specifically a Windows update. So if you have Windows Update enabled and haven't had the Windows 10 upgrade notification yet, you've either been lucky so far or you were wise enough to opt out of optional updates!
Notification
Probably the easiest method of managing the GWX (Get Windows 10) notification is to hide it, which you can do by right-clicking in the system tray near the clock, and selecting Customize notification icons. In the resulting screen, find GWX and change the Behaviors setting to Hide icon and notification.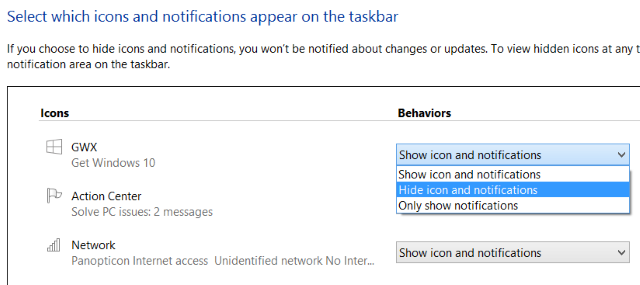 Click OK when you're done, and this will hide the Windows 10 icon and end notifications.
Incidentally, it's also possible to kill the upgrade notification until the next time you restart your PC. Right-click on the taskbar, select Task Manager and identify GWX.exe. Select, then click End Task.
To go nuclear on this, you can also delete it permanently (or at least until Microsoft adds a new update!) by opening C:\Windows\System32\GWX and C:\Windows\SysWOW64\GWX on 64-bit systems and deleting the GWX folder.