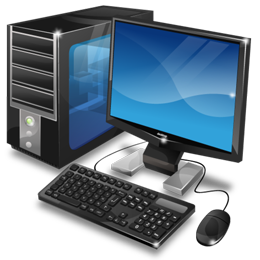 We recommend business level systems for use in business environments.
As a step above units sold in "big box" retailers, the systems offer Intel or AMD Processors and higher-end component parts. The computers you purchase for your business will be used every business hour you're open. Investing in the proper hardware will more than make up for any price difference in the systems overall durability and longevity. Whether it is Gaming PC, Home Office, or Business we can custom build the workstation to fit your needs.
Contact us or stop by the store for our custom built computer options. If your looking for a laptop or tablet we are an Authorized Lenovo Dealer. We will find the best technology to fit your needs.
Order your new computer online and pick it up in store.
Monitors
This includes ultra-fast 5ms response times and ultra-high resolution widescreens. Their slim panels and award-winning performance provide brilliant images and crisp text for all your viewing needs. The LCD and LED displays deliver exceptional price/performance combinations to enhance your desktop while staying on budget.
Microsoft Windows and Office Products
We offer sales and support for a variety of Microsoft products including Windows and Office products.
Accessories: Portable Hard Drives, Backup Solutions, Power Surge Protection, Anti-Virus, Cables and More!
Data Migration
You never think about losing all your pictures, documents, and other important files saved on your system until it actually happens and your system has never been back up. There are also occasions when files are mistakenly deleted or data is lost when your hard drive crashes, it not backed up, will be gone forever. Computer Doctors helps preserve your important documents and memories by providing you with data backups to external hard drive, compact disc(s), and or a flash drive. Computer Doctors also provides a data migration service which moves data (documents, pictures, and more) from one system to another – the perfect service when you purchase a new computer.