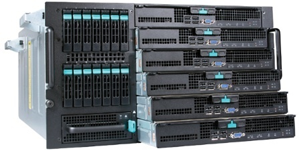 Many businesses rely on a series of computers to perform basic tasks like sending e-mails, drafting letters, or processing information. For many companies there comes a day when a network system is needed. When that day comes, you may want to consider custom built servers for all your data management and storage needs.
At Computer Doctors we know the last thing you want to do is lose information or slow down productivity during the upgrade process. We offer custom built servers that can be integrated into your current system with ease. If you're used to using specific applications, and you want to introduce new software, we can help you incorporate both systems without losing processing speeds or productivity rates. You also get a trusted expert who ensures that the systems you invest in are built to meet your specific business needs.
Our custom built servers are designed with an eye for your bottom line. We also help you design a system that's capable of expanding as your company grows. We even strive to provide you with servers that don't require a full-time IT staff to maintain. Contact us to find out how we can improve your bottom line today.